How not to run a major sporting event in the Philippines, by Mario Whitmire and Dennis Rodman
The Philippines has a reputation for being an American retiree's paradise. Web sites like
Living in the Philippines
, where a 68-year-old Amerikano named Don touts his $380/month, six-bedroom house, army of servants and 20-something wife/loveslave Ani, present a pretty common interpretation of paradise out here. Don's benificent, paternalistic racism and his thinly-veiled inner horndog, as well as entries on where to find men's hairpieces in Cebu City and the going rate for local rum make Living in the Philippines worthy of a few posts of its own, but I'm building towards something else here.
The Philippines has a serious case of Puppy Love for my man Paul Anka.
This blessed archipelago bestows good fortune upon another group of rather pitiful American senior citizens -- prehistoric lounge crooners. According to
Ticketnet
, between now and early August this roster of Vegas has-beens will do their darndest to sate Filipinos' unquenchable hunger for World War II era ballads: Paul Anka, The Four Aces, The Cascades, Engelbert Humperdinck, The Manhattan Transfer and Neil Sedaka. This may top a January/February slate that included The Lettermen and The Zombies (back from the dead, literally!) and culminated with a Valentine's Day blowout performance by Andy Williams (he of "L, is for the way you look at me" fame). At Gateway Mall in Cubao, which is connected to the venue that hosts most of these concerts, riders on the escalators were treated to a 4-story banner of Andy Williams' parched, age-beaten face hanging from the ceiling and falling all the way down to the bottom level of the mall.
So it was only natural, then, that an enterprising American businessman would apply the same principle to another great Filipino
pasyon
, basketball. And like that, Dennis Rodman's Bad Boy Tour was born. Mario Whitmire, the promoter behind the Bad Boy Tour, brought together the NBA equivalents of Wayne Newton, Tom Jones and Burt Bacharach and their ilk in Rodman, Alex English, Darryl Dawkins, Otis Birdsong, Calvin Murphy and player/coach Sidney Moncrief. Their ages, respectively, are 45, 52, 49, 50, 57 and 48.
But ballers and balladeers are not equals. When Paul Anka comes to Manila, he doesn't have to sprint up and down 90 feet of hardwood against overzealous local stars out to prove their worth against fading foreign stars. When Anka sings "Puppy Love," Nic Belasco won't be draped on him and DonDon Hontiveros won't be clotheslining him. As long as Anka can stand up and muster up enough breath to sing his classics, the crowd gets what they came for. Basketball is another story. Filipinos love basketball enough to appreciate the novelty of a gang of NBA old-timers coming to town, but Filipinos also understand that this is a young man's sport, and there was likely to be more drama and suspense swirling around the question of how many of the NBA legends' knees would be blown and backs thrown out than how many backboard-breaking dunks Dawkins would unleash or how many rebounds Rodman would pull down in traffic. The game itself would almost surely be a dud.
If you can name all these players, you're a basketball nerd.
There are a thousand things I'd like to ask Mr. Whitmire about his business strategy and his motley crew of players. How did they all manage to blow their NBA pension money, for starters? But the number one issue on my mind is branding. What made some of these guys agree to be part of the "Bad Boy" tour? Does Calvin Murphy, less than two years removed from being aquitted of molesting five of his daughters, really want to pronounce himself a bad boy? Does he need that on top of the awesome burden his nickname, "The Pocket Rocket," must be on him? The same goes for "Chocolate Thunder" Dawkins, one of the posterboys for the drug abuse and excess that is associated with the NBA in the 1970s. And what skeletons do English, Birdsong and Moncrief -- ho-hum former all-stars, as far as I know -- have in their closets to warrant joining touring the Philippines with a cross-dresser, an accused-then-exonerated molester and the self-styled "Chocolate Thunder."
But these players' advanced ages and tarnished reputations would be the least of Whitmire's problems. He promised the players, 11 in all when you count the 5 younger American minor leaguers (including Bronx, NY legend Kareem Reid!) who came along to play while the legends received oxygen on the bench, $10,000 up front and $5,000 upon completion of the tour. That's $165,000, not including airfare, the cost of housing all the players for a week and other overhead.
Whitmire was committing the cardinal sin of carpetbagging in the Philippines. He was spending dollars and earning pesos. With the peso-dollar exchange rate hovering around 50-1, that's not just risky, it's stupid. There was no way he could make his money back at the box office, where people are used to paying $13 for courtside seats, $5 for seats on the floor behind the basket and 10¢ for general admission upper deck seats. Newspaper reports said Whitmire was also getting lower offers for the game's television rights than he expected.
This humble carpenter couldn't ball, but he still gets mad love on the Philippine archipelago.
You could practically feel Whitmire going through the stages of bereavement as he struggled with ticket pricing in the week before his doomed event. At first, the general admission seats were going for 800 pesos or $16. In a country where you feel gypped paying more than 150 pesos for dinner and airfare promos go as low as 88 pesos, charging 800 pesos for nosebleed seats at a basketball game featuring NBA has-beens whose average age is over 50 is suicidal. Only Christ resurrected and Dean Martin could command those kind of prices. As the week went on, panic set in and the prices fell. All of a sudden general admission was 300 pesos. Finally, on game day, Whitmire accepted his fate and dropped the price to 159 pesos, still more than 30 times the general admission price of a PBA game. The rest of the seats, roughly 80 percent of the arena, were all 800 pesos and over. Courtside seats cost over $200 (enough for a week of armed bodyguards, probably), and so the arena was filled to 25-30 percent capacity and tumbleweeds were rolling through the courtside aisles.
The NBA legends gave what seemed like a respectable effort for overweight old men. English hit a jump shot. Calvin Murphy sprinted up and down a couple times and hit a jump shot. Darryl Dawkins didn't deliver on a dunk he promised in pre-game press conferences, but he did manage a lay-up.
Rodman gave the crowd all of his signature moves. An ugly 20-foot jumper that rattled in miraculously. 16 rebounds, including one where he tipped the ball to himself about 7 times then saved the ball as he was flying out of bounds. He got a dunk. He even pretended to care for a minute and slammed the ball to the ground so he could draw a technical foul. He got in an argument with his estranged father, who abandoned Rodman and his mother when he was three years old and now lives in Angeles City, the prostitution Mecca of the Philippines with several women and 10 children. The few people in attendance loved it. Everytime Rodman touched the ball you heard the sound of a thousand Filipinos giggling.
Of course, he had a greater monetary incentive to put on a show. All the popcorn and soda vendors in the arena were wearing signs around their necks advertising Rodman's newest autobiography at the laughable price of 1,500 pesos/$30, which is probably enough to buy an entire Encyclopedia Britannica set. The P.A. announcer reminded the crowd during every timeout to buy Dennis' book and get it signed at Pizza Hut the next day. And in the day's most shameful, exploitative bout of salesmanship, at halftime Whitmire took the microphone and told everyone the story of Miguel Herrera, a Filipino teenager suffering from leukemia who couldn't be at the game but was given a signed copy of the Worm's book instead.
But the game's very public financial difficulties and the very empty Araneta Coliseum clearly affected the quality of play. The visitors, especially the young reinforcements like Reid, Myron Allen and Olu Famutimi, who actually needed the money, played like they knew Whitmire would never make enough money to pay the extra $5,000 he still owed each of them. They were so indifferent out there, I wondered if they were expecting to have to pay for their own airfare back to the States.
Reid, who fills it up every summer at the Rucker and who was a great flashy ball-handling, high scoring little man at Arkansas in the mid-90s, shot about 5 times the entire game. Famutimi and Allen scored a ton, but they played as little defense as humanly possible. No matter how many three-pointers the Filipinos made, the Americans would not guard them. They wouldn't look at them. They'd just wait for the ball to go through the net, walk it back upcourt and play offense.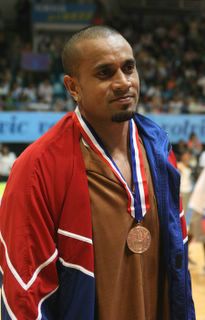 Asi Taulava says: Sleep on Team Pilipinas at your own risk, you dirty Yanks!"
And they weren't playing a bunch of bums. This was the Philippine National Team, stocked with Fil-Am players like Kelly Williams and Rafi Reavis who have solid D1 credits in the United States and native Filipino shooters like Ren-Ren Ritualo and DonDon Hontiveros who DO NOT MISS open shots. Even down the stretch, Rodman's team let Team Pilipinas shoot open threes to regain the lead, and trailing by 4 points with less than a minute left, the Americans didn't even bother fouling the Filipinos to get the ball back.
But even if it wasn't the most impressive win for the national team, it was a good day for Philippine basketball. A lot of people here weren't sure if the local stars could handle the Americans, even if they were all over-the-hill or disgruntled and unmotivated. Plus, opposing factions within the Philippine basketball hierarchy had previously battled over whether the national team should be composed of all native Filipinos or if it should include Fil-Ams. The messy dispute got the country into trouble with FIBA and resulted in basketball (a sure-shot gold medal for the Philippines) being barred from last year's Southeast Asian games. The much better Fil-Am/Filipino team of PBA stars stated its case strongly by dispatching Rodman and his not-so-merry band of ballers, 110-102.